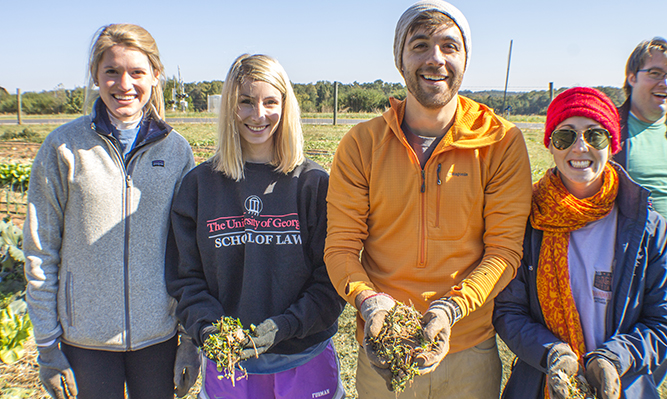 Public Interest Law Council
About
The PILC is a student-run organization dedicated to maximizing the school's ability to serve public interests and serving as a clearinghouse for UGA's many public interest programs. PILC organizes a number of different service opportunities, including Community Service days each semester and an Alternative Spring Break Trip. PILC also organizes events focusing on career development and guidance for students considering working in the public interest sector.
By facilitating cooperation between the many excellent groups already in place as well as helping new students find groups they like and consolidating a calendar of public interest events, we hope to help as many students as possible get involved in rewarding, helpful work during their time here at UGA Law! 
Contact PILC at UGAPILC@gmail.com.
Community Service Days
Each semester Georgia Law students volunteer around the Athens community as a part of the Public Interest Law Council's community service day. Past volunteer locations have included Athens-Clarke County Animal Shelters and Humane Society, Bear Hollow Zoo, Ben Burton Park, Sandy Creek Park and Nature Center, UGArden, Project Safe Thrift Store, Athens Food Bank, and more.
Watch Videos of past community service days:
---
Student organizations are not a part of nor are they agencies of the University of Georgia School of Law or the University of Georgia.  Neither the University of Georgia School of Law nor the University of Georgia direct, supervise, or control these organizations.  Each organization is a separate and independent organization and is responsible for and manages its own activities and affairs. The University of Georgia School of Law and the University of Georgia are not responsible for any of these organizations' contracts, acts or omissions.
The content and opinions expressed in student organization websites linked from this web page do not necessarily reflect the views of nor are they endorsed by the University of Georgia or the University System of Georgia.