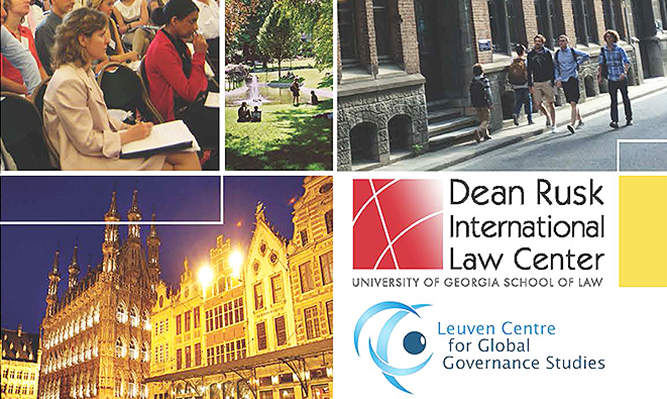 Georgia Law-Leuven School of Global Governance, June 22-30, 2017
The School of Global Governance, presented jointly by the University of Georgia School of Law and the Leuven Centre for Global Governance Studies, will offer law and political science students and practitioners from the United States and Europe a nine-day intensive experience in international law. Included will be briefings at international legal institutions, coursework, conference participation, and professional development opportunities.
The School will begin with three days at The Hague, home to entities like the International Court of Justice, the International Criminal Court, and the Permanent Court of Arbitration. Meeting with lawyers, judges, prosecutors, and other personnel, students will witness international legal institutions in action. Cultural excursions also will be offered.
The School then will move to the beautiful campus of the University of Leuven, one of Europe's premier research institutions. There, Georgia Law and Leuven faculty will lead 3 days of seminars to prepare students for the subsequent day-long conference: A transnational array of experts will convene to engage in a critical debate of current issues in global governance. A closing reception and conference dinner will provide further networking opportunities among student and expert participants. Also planned are professional development briefings in Brussels, site of European Union entities, international law firms, and NATO headquarters.
Students who complete the School of Global Governance will be awarded a diploma; however, no institutional credit is available for participation.
Costs
Students are required to pay their actual costs for travel (including airfare, room, board, spending money) and participation in activities. 
Registration
The application period is now open. The deadline to apply for the School of Global Governance is March 24, 2017.
Contact
For more information, contact Kathleen A. Doty, Director of Global Practice Preparation at the Dean Rusk International Law Center, Universityof Georgia School of Law, at doty@uga.edu or (706) 542-9739.