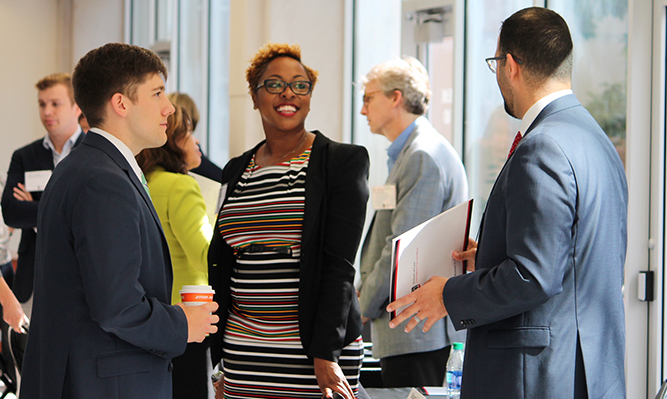 Information for Employers
Meet Our Students!
We seek to facilitate meaningful student/employer relationships. UGA School of Law invites you to interview on campus, collect resumes, attend student/attorney networking events, speak to a student group on campus, or otherwise introduce you to our outstanding students.
Contact Ebony Mobley, Employer Relations Manager, to learn more: ebony.mobley@uga.edu, (706) 542-4361.
Please contact Laura Roqueta, Student Engagement Coordinator, if you'd like to schedule on-campus interviews: lauraroquta@uga.edu at (706) 542-9737.
Important Recruiting Dates
| | |
| --- | --- |
| Recruiting Opportunity | Date |
| Spring 2021 OCI Virtual Interviews | February 4 - 12 |
Schedule Interviews or Post a Job
Schedule interviews or post a job in any of the follows ways:
Post directly to our LawDawgDash career services software to schedule on-campus interviews or post a job. You can also create an employer profile students can view.
Complete the online form and our office will follow up with confirmation.
Call us at (706) 542-7541. 
 
On-Campus Interviews
UGA School of Law provides you the opportunity to interview our students and recent graduates at no charge to employers. All interviews can be pre-screened by employers.
Ideally, employer registration for on-campus interviews should be submitted at least three weeks prior to the on-campus interview date in order to allow time for collection of applications and employer pre-screening.  If you must interview on shorter notice, please contact us and we will endeavor to accommodate a shorter timeline.
Our law school's address is 255 Herty Drive, Athens, GA 30602. Employers should park at the main entrance of the North Campus Parking Deck at 230 S. Jackson Street, Athens, GA 30602. View on Google Maps.
Interact with Our Students
UGA School of Law makes it easy for employers to interact with our students. Below are just a few examples of how your organization can meet students and become more well-known within our law school: 
Professional development workshops (an attorney provides a 45 minute training to students).
Mock interview training (visit campus to do mock interviews and provide students with feedback).
Video conversations (use Skype to conduct informal discussions about your firm or practice).
Sponsor our candy dish or popcorn (a sign highlighting your organization will be placed near the free candy and popcorn we provide students). 
Small group career counseling (an attorney meets with small groups of students throughout the day to provide practice insights).