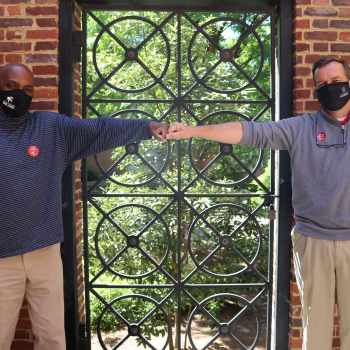 To promote our Culture of Shared Responsibility, we are pleased to announce an exciting monetary incentive program for School of Law faculty/staff and J.D., LL.M. and M.S.L. students to get vaccinated. Please note that participation is strictly voluntary.
NOTE: The deadline for registering your completed COVID vaccination status is now 10/15/21.
WHAT ARE WE DOING?
For Those Who Are Unvaccinated or Not Fully Vaccinated
You can receive a $250 gift card as soon as you are fully vaccinated for COVID-19. To receive your Visa or Mastercard gift card, you need to complete your vaccination process at the University Health Center. Vaccinations are free for UGA students, faculty and staff at the UHC. Here is a link to make an appointment. A total of 40 gift cards will be awarded by the law school on a first come, first served basis. To register for a $250 gift card after you are fully vaccinated at the UHC (by receiving your second of the Moderna or Pfizer shot, or your one Johnson and Johnson shot), log onto the portal here. Once you are fully vaccinated, you can also log into the portal (described in more detail below) for a chance to win $1,000, either from UGA or the School of Law.
For Those Fully Vaccinated (wherever and whenever you received your shot(s))
You can receive $1,000. To be eligible for this drawing, you must be fully vaccinated for COVID-19 (two doses of Pfizer or Moderna or one of Johnson & Johnson). Simply log into the University of Georgia portal and submit your name by October 15, 2021. $1,000 prizes will be awarded to School of Law faculty, staff and students. Given the size of the School of Law community, your chance of winning $1,000 is 10%. Note: If an individual wins $1,000 from UGA for getting fully vaccinated, that person is not eligible for the law school drawing. Please be sure you have completed your registration by 4 p.m. on 10/15/21 to ensure your name is in the system for both UGA and School of Law drawings. 

WHY ARE WE DOING THIS?
To protect medically vulnerable members of our community (including their kids) who have no choice whether to get vaccinated
To reduce the risk of having to revert to online learning because students, faculty or staff become infected with COVID-19 or have to quarantine
To reduce the risks that staff and faculty have to take leave because they are diagnosed with COVID-19 or have to quarantine
To reduce the stress on our hospitals and emergency rooms
To protect members of the broader community in which we live and work
Because vaccines – as well as mask wearing – reduce the risks of both transmission and mutation (which could create a new strain)
Because lawyers lead
SOME FINAL IMPORTANT DETAILS
Employees' awards will be taxed appropriately through payroll.
Student winners will receive the $1,000 award through their student account and the School of Law will work with the Office of Student Financial Aid to make every attempt to ensure this does not interfere with other assistance being received.
Winners will be required to validate the date(s) and location(s) of their vaccine shot(s).
Thank you for your continued efforts contributing to a Culture of Shared Responsibility at the School of Law. Whether it's wearing masks or getting a vaccine, your individual efforts contribute to the collective safety of our law school community and our broader community. Please continue doing your part and I'll do everything in my power so that we have the best possible environment in which everyone can learn and work safely.