LL.M. Admissions
The University of Georgia LL.M. Program offers graduates of foreign law schools the opportunity to learn U.S. law at one of the United States' most highly regarded law schools. LL.M. students come from all over the world and have many opportunities to interact with Georgia Law's J.D. students whose admissions credentials place them in the top 6% of all law students nationally. Enrollment in the LL.M. program is limited to 25 students each year to ensure that faculty and staff are able to give each LL.M. student individual assistance and support.
UGA's LL.M. program is unique because of the flexible approach it offers. Each LL.M. student crafts his or her own program of study by selecting from the wide range of courses offered by the law school. No matter what areas of U.S. law interest you, you will find an opportunity to expand your knowledge in the University of Georgia LL.M. program.
Explore our site to learn more about the excellent value, the strong curriculum and welcoming atmosphere at Georgia Law.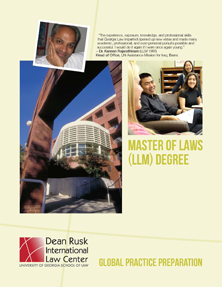 - LL.M. Brochure, (printable PDF)
- LL.M. Program Admission Requirements
- Tuition, Expenses, and Scholarships
- Qualifications for Admission to the Bar