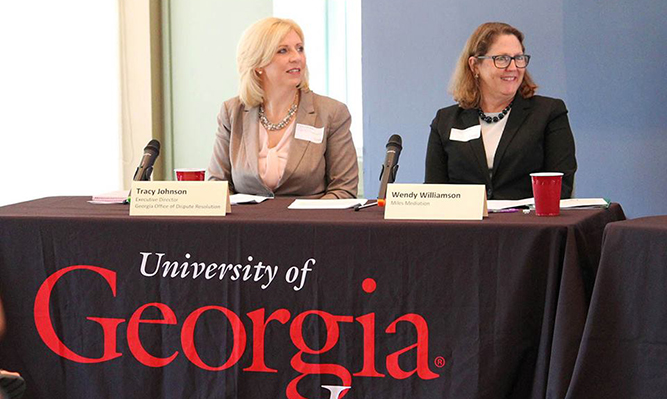 Alternative Dispute Resolution Society
About
Research shows that the vast majority of lawsuits in the U.S. today are resolved outside of litigation. The ADR Society at UGA Law thus complements students' legal studies with skills and professional networks to launch them into effective careers in the growing field of alternative dispute resolution. Its mission is five-fold:
Explore current forms of alternative dispute resolution, such as negotiation, mediation, arbitration, collaborative law, and restorative practice;
Facilitate skill-building opportunities in these areas;
Spark a dispute-resolution culture among the greater law school community;
Build networking relationships between students and ADR practitioners;
and Equip students to leverage their ADR skills throughout their legal careers.
---
Student organizations are not a part of nor are they agencies of the University of Georgia School of Law or the University of Georgia.  Neither the University of Georgia School of Law nor the University of Georgia direct, supervise, or control these organizations.  Each organization is a separate and independent organization and is responsible for and manages its own activities and affairs. The University of Georgia School of Law and the University of Georgia are not responsible for any of these organizations' contracts, acts or omissions.
The content and opinions expressed in student organization websites linked from this web page do not necessarily reflect the views of nor are they endorsed by the University of Georgia or the University System of Georgia.