Law School Registrar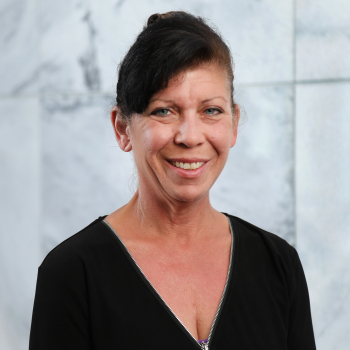 University of Georgia
School of Law
109D Hirsch Hall
Athens, GA 30602
United States
B.S., B.S., M.P.A., Georgia College & State University
DPA, Valdosta State University
Ph.D., University of Georgia
Biographical Information
Paula Elrod McBride joined the University of Georgia School of Law in 2008 as the assistant registrar and was promoted in 2011 to registrar. McBride is responsible for maintaining student records, coordinating course registration and handling the distribution of grades. She also manages the registrar's Web page, performs graduation audits and provides information to prospective employers and bar admission offices across the country.
McBride has a long history of working in the collegiate field. Her experience includes working at Athens Technical College as a financial aid adviser, where she assisted with student scholarships and enforced eligibility requirements. At Georgia College & State University, she served as a senior secretary and aided students with registration in addition to a variety of other support tasks in both the Department of Government and Sociology and the Department of Psychological Science. McBride has also taught as an adjunct faculty member at GCSU.
She earned her undergraduate degrees in political science and public administration as well as her master's degree in public administration from GCSU. McBride has a Doctor of Public Administration from Valdosta State University and a Ph.D. in Adult Education from UGA.