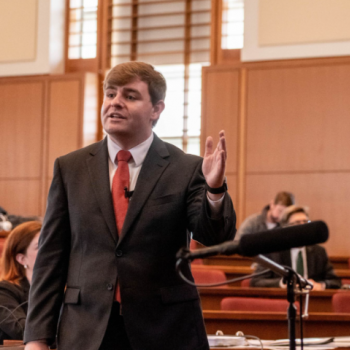 Congratulations to 2023 graduate Nicholas R. "Nick" Lewis for winning the Top Gun XIV National Mock Trial Competition. His effort created a historic win, as no school has won this tournament two times in a row. Lewis was undefeated throughout the tournament. 2023 graduate Emily P. Johnson served as Lewis' co-chair/technical advisor and Associate Director of Advocacy Joe Lester served as coach.
Top Gun is an invitation-only event for law schools that have excelled at mock trial competitions during the past year or otherwise distinguished themselves in their dedication to trial advocacy training. The grueling matchup is limited to just one competitor from each of the 16 participating law schools. Lewis did not receive any details about the case he argued until 24 hours before the competition began.
2022 graduate Haley K. Kairab captured the top trophy in this competition last year.