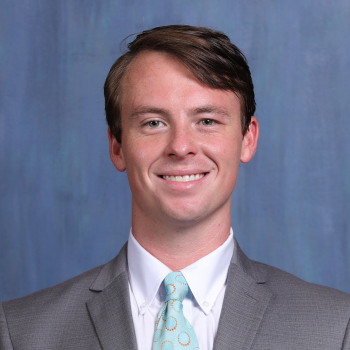 The School of Law regrets to announce the passing of law student S. Davis Bergsagel on October 9, 2021. He earned his bachelor's degree from the University of Georgia in 2018 with honors and was pursuing his Juris Doctor at the law school. A memorial service will take place 3 p.m. October 15 at Roswell Presbyterian Church, 755 Mimosa Boulevard, Roswell. A Celebration of Life will follow the service at Roswell Historic Cottage, 972 Alpharetta Street, Roswell. In lieu of flowers, donations may be made to the National Alliance on Mental Illness (NAMI.ORG)
The Student Bar Association will be coordinating a group donation to NAMI on behalf of the law school community. Contributions can be made via Venmo (@ugalawsba) or by contacting SBA Secretary Alexandra Hammock at alexandra.hammock@uga.edu.
Regarding condolence messages, if you would like to sign a law school card for the Bergsagel family, please stop by the law library circulation desk by 5 p.m. Thursday, October 14. If you would like to provide an independent personal note for the family, the Dean's Office is accepting those through 5 p.m. Thursday. All messages and cards will be delivered to the family at the service on Friday afternoon.
A loss such as this is hard. Please be sure to draw on the collective strength of our faculty, staff and students and reach out if you are in need or just want to talk. Dr. Erin Higgenbotham remains a resource for grief and other counseling. Outside of her availability at the law school, you can call UGA Counseling and Psychiatric Services at 706-542-2273 anytime, day or night.  
He is survived by his parents John and Susan Bergsagel, brother Parker, twin sister Caroline and grandmother Shelby Parker. 
Please continue to keep Davis' family in your thoughts during this sorrowful time.
An all-encompassing person: Friends remember Sam Davis Bergsagel's magnetic personality - Red & Black 10/23 article