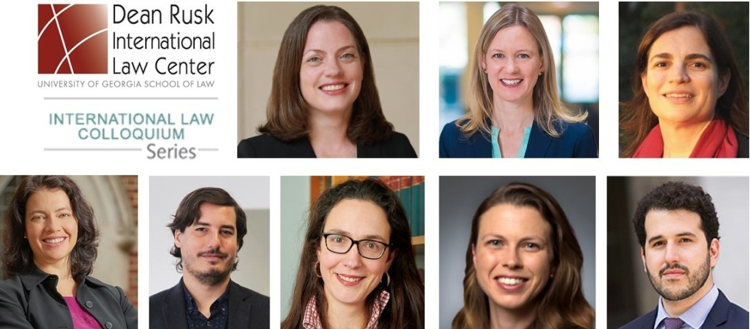 For more than a decade, the International Law Colloquium Series has brought leading scholars to the School of Law, where they have presented works in progress and invited discussion and comments from students as well as faculty discussants. Past presenters have come from throughout the United States and as far as Galway, Geneva, London, Montreal, Rome and Toronto to explore an array of legal topics: foreign direct investment, refugees, international arbitration, discrimination, climate change, crimes against humanity, international tribunals, state sovereignty, human rights, treaty interpretation, democracy-building, counterterrorism and the laws of war, and global governance.
The Spring 2022 International Law Colloquium is a two-credit course led by Harlan G. Cohen, the Gabriel M. Wilner/UGA Foundation Professor in International Law, and supported by the Dean Rusk International Law Center.
Presenters
Pictured above, beginning at top left:
January 21: Kristen Eichensehr, University of Virginia School of Law 

January 28: Rebecca Hamilton, American University Washington College of Law 

February 11: Asli Ü. Bâli, UCLA Law

February 25: Rebecca Crootof, University of Richmond School of Law 

March 4: Alonso Gurmendi Dunkelberg, Universidad del Pacífico, Perú  

March 18: Sarah Nouwen, European University Institute, Italy, and University of Cambridge, United Kingdom

April 1: Maggie Gardner, Cornell Law School

April 15: Julian Arato, Brooklyn Law School 
This program made possible through the Kirbo Trust Endowed Faculty Enhancement Fund and the Talmadge Law Faculty Fund.