Working In the Public Interest (WIPI)
Schedule | Registration | Panel Descriptions | About WIPI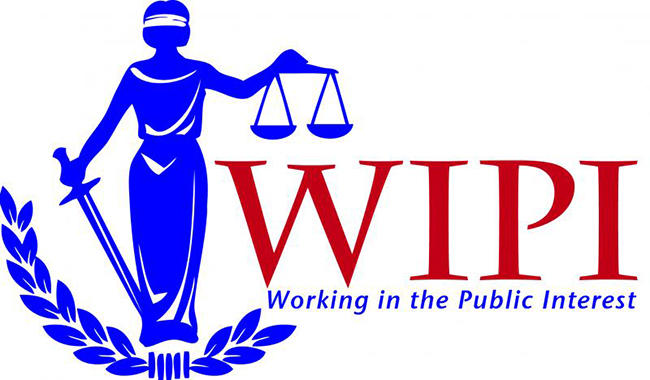 About WIPI
Entirely student organized, WIPI seeks to bring together eminent practitioners in their respective fields, students, and faculty to discuss practical approaches to lawyering which promote social justice and human rights for all. This conference seeks to highlight dynamic, creative ways to combat social injustice through the vehicle of the law. WIPI is committed to institutionalizing a public interest law conference in the Southeast. We feel the social history, political climate, and economic conditions of Southeast are unique, and we hope that by providing a forum to address persistent social injustices we may get one step closer to resolving the major public interest law issues in the Southeast.  
Introduction to This Year's Panels
Every year law students volunteer their time to research and write short background papers on each panel topic.  You can find these papers at http://digitalcommons.law.uga.edu/wipi/2014/, along with historical information about prior WIPI conferences.
Saturday, March 1, 2014
University of Georgia School of Law, Athens, Georgia
9:00 - 10:00        Registration and Breakfast
10:00 - 11:20      Plenary Opening Panel and Welcoming Remarks
                           Voting Rights Act
11:30 - 12:50      Panel Session 1
                           Law Enforcement, Community, and Military Tactics: What's the Conflict? - Room A
                           Poverty in Suburbia: Are the Poor Out of Reach? - Room B
1:00-2:00            Lunch with Sally Greenberg, Executive Director of the National Consumer's League
2:00 - 3:20          Panel Session 2
                           Privatization of Prisons: Costs and Consequences - Room A
                           Delivering Public Assistance: What Does it Mean to Follow the Law? - Room B
3:30 - 4:30          Keynote Address
                           Abbe Smith, Director of the Criminal Defense and Prisoner Advocacy Clinic, Professor of Law, Georgetown                                                                      University Law Center
6:30                    Presentation of the Milner S. Ball Lifetime Achievement Award
  
                            Presented at the Equal Justice Fellowship Auction
                            The Melting Point (adjacent to the Foundry Park Inn)
                            295 E. Dougherty Street
                            Stay for the Auction and support public interest fellowships for UGA law students!
Questions? Email us at wipiconference@gmail.com.
Content contained on this website may not reflect the views or opinions of the University of Georgia or the Board of Regents of the University System of Georgia.