LELA and OUTLaw Present: Bringing Title VII Up to Speed: Workplace Discrimination and LGBTQ+
Date:
Wednesday, October 16, 2019 -

11:45am

to

1:00pm
Please join us on Wednesday, 10/16 from 11:45 - 1:00 as we host Thomas Mew ('97) from Buckley Beal LLP, who will be speaking about employment discrimination and advocating for LGBTQ+ rights before the U.S. Supreme Court.
 
Mr. Mew will be arguing before the Court in the case of Bostock v. Clayton County on October 8th, arguing for an expansive interpretation of Title VII.
Co-sponsored by the Labor & Employment Law Society, OUTLaw, and the Career Development Office.
RSVP in Symplicity, or via email to profdev@uga.edu.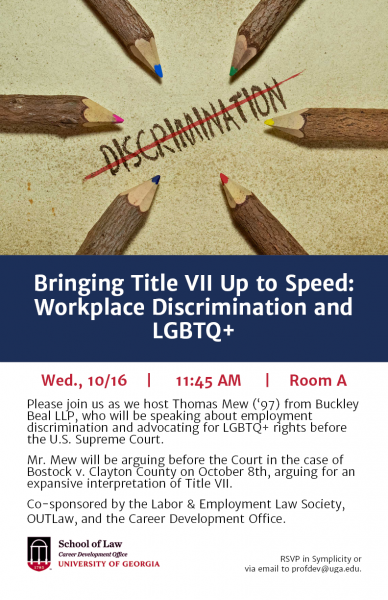 Contact Name:
Jonathan Spratling, Labor & Employment Law Association