Bar Exam Character & Fitness: What You Need to Know
Date:
Monday, October 7, 2019 -

12:00pm

to

12:50pm
Important information session for 3Ls & LLMs.
Representatives from the Georgia bar admissions office will explain what you need to know about the fitness certification process, which you must successfully complete before you can sit for the bar exam.  The information also is helpful for those taking other states' bar exams.
RSVP in Symplicity or via email to profdev@uga.edu.
You may wish to review sample forms for the fitness application: https://www.gabaradmissions.org/browseapplication.action?id=2
Students with individual private concerns may also schedule individual consultations; attendance at the noon group session is required in order to schedule a consultation.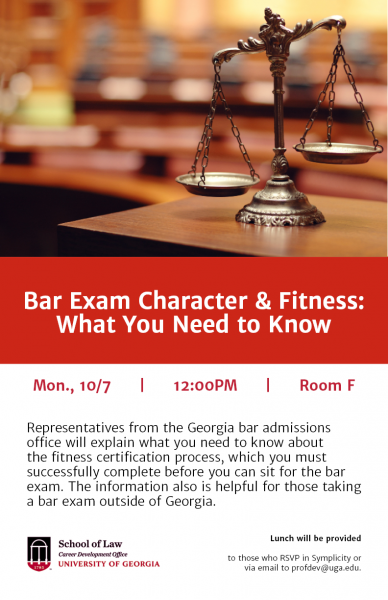 Contact Name:
Beth Shackleford, Director of Student Professional Development