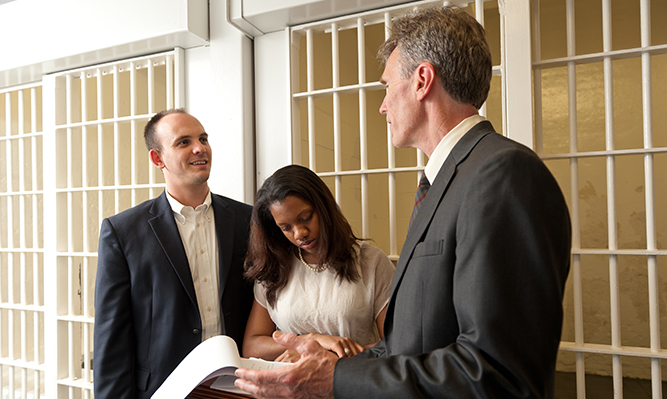 Criminal Programs
Gain experience and first-hand knowledge of the criminal justice system through Georgia Law's criminal programs. For more information, please visit our FAQ page. Explore:
The Criminal Defense Clinic is an excellent opportunity for students interested in becoming defense lawyers, prosecutors and public defenders. Law students work with attorneys in the Western Circuit Public Defender Office, interviewing clients, investigating cases, negotiating plea agreements, and appearing in court. Third-year students routinely represent clients in pre-trial hearings and trials.
The Prosecutorial Justice Program teaches students trial techniques, making it ideal for students who want to litigate immediately after graduation. The program is 3 semesters long and includes classroom instruction and an externship in a prosecutor's office in or near Athens. During the externship, students can observe all phases of a criminal trial, research various questions of law and draft legal memoranda and charging documents. Students are also authorized to participate in preliminary hearings, motion hearings, arraignments, juvenile adjudications, probation revocations, grand jury proceedings and jury trials.
The Capital Assistance Project was initiated in 1998 at the request of the Supreme Court of Georgia. Here, students work at agencies defending individuals charged with or convicted of capital crimes and undertake valuable research and writing projects to assist agency attorneys with these cases.