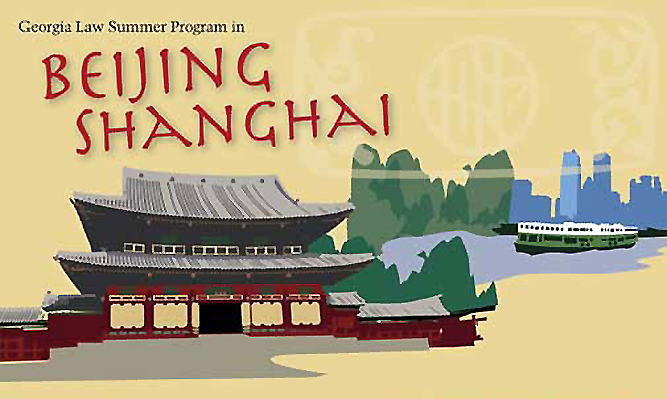 China Summer Program
Program Overview
Beijing: May 25 - June 5 /  Shanghai: June 8 - 17
The Georgia Law Summer Program in China offers participants an inside view of the dynamically evolving legal culture of the United States' second-largest trading partner. The curriculum is designed to provide an introduction to the Chinese legal system, with an emphasis on commercial and international trade law.
Directed by C. Donald Johnson, a former congressman and ambassador in the Office of the United States Trade Representative, the program includes lectures by leading legal scholars at two of China's top law schools. In addition, students take part in a seminar on trade issues with officials from the Chinese Ministry of Commerce.
Classes generally meet in the mornings, leaving afternoons and weekends free for exploration of two of China's most fascinating cities: Beijing, the capital, and Shanghai, the financial center. Students attend a briefing on trade issues at the U.S. embassy, visit the Shanghai International Arbitration Centre, and meet with international attorneys at a top law firm. Past cultural excursions have included the Ming Tombs, the Great Wall (Mutianyu section), Tiananmen Square, the Forbidden City, and the Temple of Heaven as well as a guided tour of Shanghai.
This program is hosted in Beijing by Tsinghua University School of Law, and in Shanghai by Shanghai Jiao Tong University Koguan Law School. The host institutions provide lectures and classroom space as well as administrative assistance.  
Tentative Schedule
Arrival in Beijing: May 23
Orientation: May 24
Beijing Program: May 25 - June 5
Departure to Shanghai: June 6
Shanghai Program: June 8 - 17
Departure from Shanghai: June 18