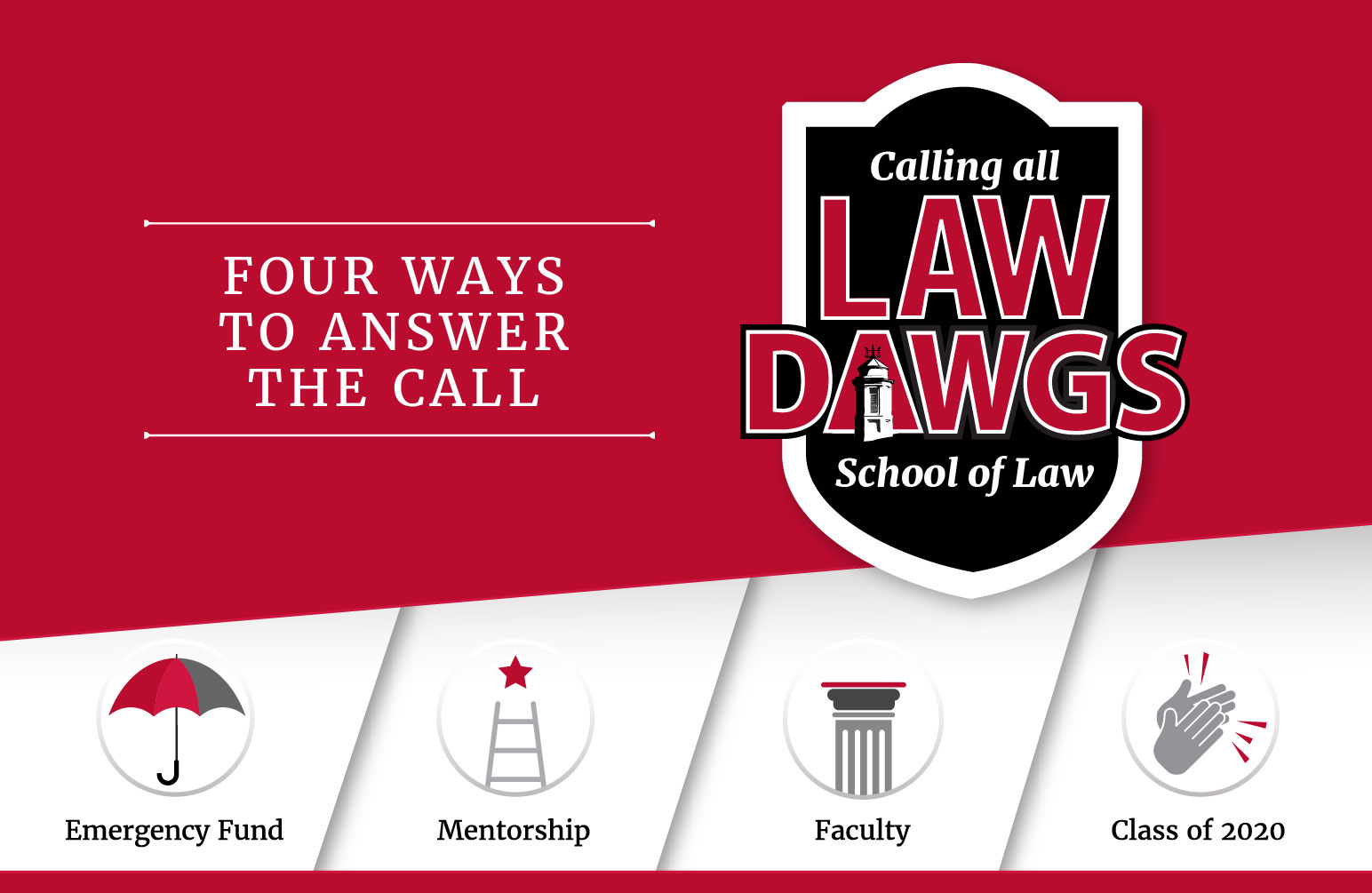 CALLING ALL LAW DAWGS
Our vision remains. Our mission unwavering. Now more than ever, the strength our community lies within its people! We are asking all Law Dawgs to answer the call by either making a gift, mentoring a student, encouraging our faculty, or celebrating the Class of 2020.
FOUR WAYS TO ANSWER THE CALL
Right now, our safety demands that we keep our distance. But we can still come together like never before. A Law Dawg community 10,000+ strong has the ability to make a difference today by answering the call.
Support the Emergency Fund

Questions remain about how COVID-19 will impact our students, faculty, and staff. We are more than a community, we are a family. A gift to the annual Law School Fund will allow us to respond to the serious and unexpected needs of our family.

Become a Mentor

The power of the School of Law lies within its people. Our mentorship program provides a wide network of support for our students, creating a mentorship team that includes a peer mentor, faculty mentor, an alumni mentor, and a career counselor. During these uncertain times, our mentors make a difference.

Encourage our Faculty

Faculty are the lifeblood of a law school. Our world-renowned faculty include Josiah Meigs Distinguished Professors, Fulbright Scholars, former clerks for the U.S. Supreme Court, and leading legal scholars of our day. More importantly, these individuals are on the front lines of our law school every day, making personal investments that change our students lives. Encourage our faculty with a note, a phone call, email, or quick video message.

Celebrate the Class of 2020

Remember the excitement you had as you walked across the stage after three years of law school? The Class of 2020 will graduate, but theirs will be a much different experience. Knowing they enter their future supported by a vast and dynamic Law Dawg community will make a difference.

Click below to explore ways you can participate in celebrating the extraordinary students of the University of Georgia School of Law Class of 2020!