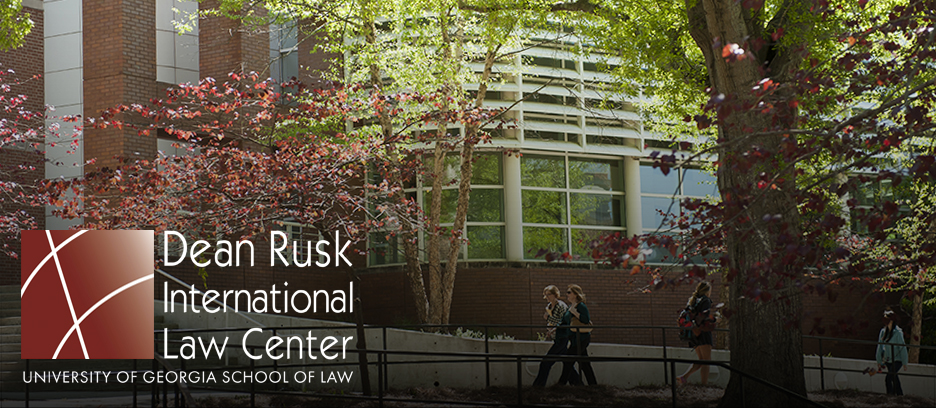 Overview
Each year the Dean Rusk International Law Center at the University of Georgia School of Law welcomes legal academics and other experts from around the world. These visiting researchers and visiting scholars include law school professors, postgraduate researchers, and policymakers. Typically, they will be in residence for at least one semester and no longer than an academic year.
Preference will be given to applicants who have made plans to collaborate with a member of the University of Georgia School of Law faculty, and every visiting researcher or scholar must have a faculty sponsor while in residence.
Visiting researchers and scholars may be expected to present their scholarship to students, faculty, or other members of the UGA School of Law community.
Research privileges in the Louis B. Sohn Library on International Relations and the Alexander Campbell King Law Library, as well as access to legal databases, will be provided.
Neither computer assistance nor administrative support typically will be provided to visiting researchers or scholars. Nor do such visitors typically audit courses; requests to audit on a non-credit basis may be granted, on rare occasions, only if proper university procedures are followed and with permission of the UGA School of Law registrar and the course instructor.
Application
To be considered for acceptance, each prospective Visiting Researcher or Scholar must complete in full the online application form, which requires, in addition to the details requested on the online form, payment of an application fee of $100 and uploading of the following:
Current résumé or curriculum vitae
Letter of recommendation
Copy of pages of passport identifying applicant
In some cases, proof of English language proficiency
Fees
Visiting Researchers and Scholars will be required to pay the following fees:
Application fee of $100: due when application is submitted
Confirmation fee, of $500 for a stay of one month or less, or $1,900 for a stay of one to twelve months: due when the applicant accepts the offer of admission to be a Dean Rusk International Law Center visiting scholar or visiting researcher.
Immigration fee.
Timing
Because of the large number of applications received each year, the Dean Rusk International Law Center cannot accommodate everyone who seeks to become a visiting researcher or scholar.
Typically, decisions on applications will be made no earlier than September 1 and no later than April 30 in any given year. Applicants should submit applications within that period, and may not expect decisions on application outside that period. Applications will not be considered until the $100 application fee is paid.
Visiting researcher or scholars may not be in residence for more than one year.
Because the process of securing a U.S. government visa may be protracted, all prospective visiting researchers or scholars who require an international visa are urged to apply at least six months before they intend to travel to the United States.
Additional information
The University of Georgia School of Law website includes detailed information about faculty members, research facilities including the Alexander Campbell King Law Library, and our Dean Rusk International Law Center.
Additionally, the University of Georgia, at its Information for Scholars webpage, offers additional information on matters including visa processes, airport and arrival, lodging, and community resources.